2005.05.28 Saturday
NOTHING SPECICAL
この2週間はなにをするでもなく、怠惰な時間を送っていました。AMRのGT40もコーナーランプのハウジングを開けたくらいで、目立った進展はナシ。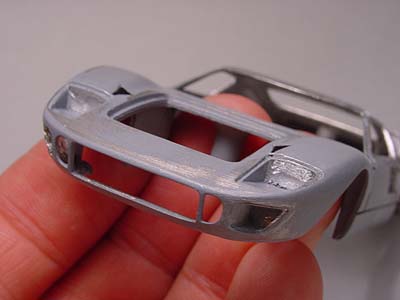 そういえば友達のヤマグチさんが
お店のHP
をオープンされました。彼とのつきあいはもう8年も前のこと、'97年型のポルシェ911GT1を作ってくれと頼まれたのが始まりです。以来、お店の営業時間が終わった深夜にウチに来て、1時間ほどバカ話をして帰る、というパターンが続き、彼のお店には僕のミニカーが1台、また1台と増えていきました。ここしばらくご無沙汰してますが、またお蕎麦を食べに行きますね。
I wasn't absorbed in nothing special for this two weeks. The going of GT40, I only have done a little modification to the corner lamps as you can see above picture.
By the way, I have a friend who has a buckwheat-noodle restaurant in Kokubunji and he just started
his website
and blog himself. You know he is an enthusiast about modelcars and we often met together. Unfortunately there's no chance to visit him for these months... I wish I could visit him soon and had a chat about modelcars, and of course, had a buckwheat-noodle.
スポンサードリンク