2006.06.30 Friday
IMPROVEMENTS OF EIDOLON'S F40LM
先日、Yahoo掲示板の某スレッドにも書き込んだんですが、じつは私、フェラーリF40LMが大好きなんですよ。これまで1/43でピン!とくるキットが無かったので作りこそしませんでしたが、メイクアップ/アイドロンの完成品は入手してすぐに台座から外し、机の脇に置いていつも眺めていました。
You know I like Ferrari F40 Competition very much and got this Eidoron's F40LM from my friend by barter. It was a really stunning piece though, the outer case looked so cheap. Then I discarded it and put the model alone on my descktop.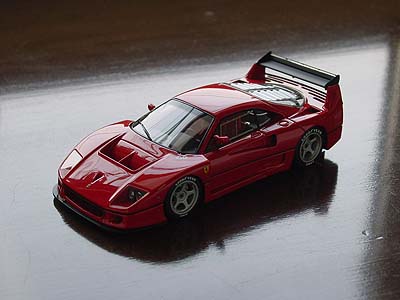 ご存じのようにメイクアップはLSJ(ルックスマートジャパン)ブランドのスタート時から大変コストパフォーマンスの高い製品を送り出してきています。このF40も端正なプロポーションと美しい塗装、適度なディテール表現、そして実車の知名度といった相乗効果もあって、コレクターの間でも人気の高い製品です。
One day I came up with a good idea to improve the appearance of this F40LM. I began to break down the body and the underbody, but they seemed to be fitted tightly each other by glue. I put Tamiya's enamel thinner into their junction to make the glue soft, and then tried to remove the underbody... you know this kind of "laddish" work will make a big trouble. I was very lucky because there were no damage outside of two or three scratchings on the underbody.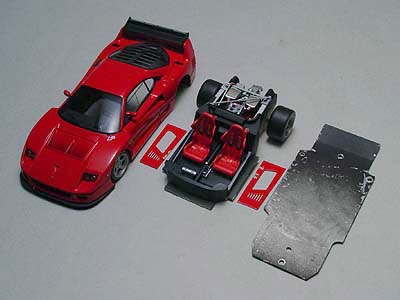 でもね(笑) 眺めているうちに、やっぱり気になるところが出てくるんですよ。とりあえず、筋彫りのキワにブ厚く盛り上がっているクリアー層を2000番の耐水ペーパーで研ぎ出し、コンパウンドですっきりと仕上げ直してみました。
う〜ん、これで見栄えは数段上がったけど、やっぱりコクピットやエンジンルームも手を入れたくなってきたぞ。思い切ってバラしちゃおうか?でも、裏側のビスを外しただけではビクともしないんですよね。接着剤もベットリ付いているし・・。
スポンサードリンク