2006.07.04 Tuesday
IMPROVEMENTS OF EIDOLON'S F40LM PART II
After breaking down the body from the underbody, I sanded its surface flat with #2000 sandpaper. There's no need to touch the full of the body in this case. The clear coat around the rear tire was too thick and rough, so I just sanded and polished this area carefully.
その磨きの作業ですが、2000番の耐水ペーパーから始めます。この塗料はおそらくウレタン系だと思いますが、切削感が良好なので削り過ぎに注意! 塗装面の凹凸が消えたらコンパウンドに切り替え、ゆっくり磨いていきます。
I also did the same work on the rear end. It's easy to remove the piece of the tow pin and the exhaust ends if you soften the glue with Tamiya's thinner. I'm going to remake these exhausts with brass tubes later.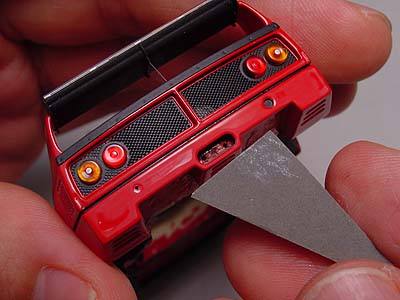 排気管の末端のパーツも、ボディと同じ接着剤で止めてあるだけなので、タミヤのシンナーを流してしばらく待つと、ピンセットで取り外すことができます。今回は中央の細い管を1.4mm、左右を1.7mmの真鍮パイプで作り直しました。エッジには0.2mmの真鍮線のリングを半田付けしてあります。
排気管の右側にある黒く塗りつぶされた凹みは、実物ではその穴の奥にエアジャッキ用のコネクターが隠れているので、モーターツールで開口して真鍮パイプでも差しておけば、それらしく見えるかな?
スポンサードリンク