2012.06.22 Friday
NEVER SAY DIE
気に入らない‥と言ってるだけでは先に進まないので、一度冷静になって対処方法を考えます。デカールの色調が赤黒くなってしまう原因は、下地の色の影響も大きいようなので、貼り付ける箇所のみ、GSIクレオスの薄め液でブルーメタリックの塗装を落とすことにしました。下地の白にウレタン系を使っていて良かった!
I've been learning by mistake with applying decals of STR3 for these days. The red bull decal changes darker when I put it on the metallic blue surface...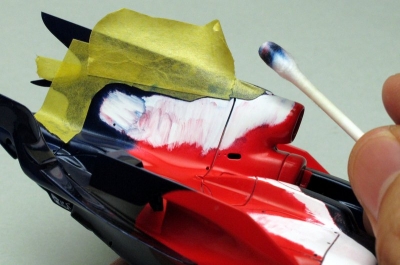 インダクションポッドやヘッドレストの曲面部分は塗装したほうが簡単です。デカールの縞模様のところをナイフで切り抜き、実車写真を参考に貼り付けていきます。
So I made up my mind to remove the blue. Fortunately the white urethan base coat withstood a laquer thinner wiping.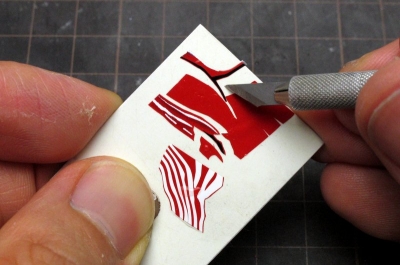 サイドポンツーンも複雑な面構成なので、デカールの色味に合わせて塗装しました(参考までに、フィニッシャーズのディープレッドとクレオスのハーマンレッドを7:3くらいの割合で混ぜています)。
The head rest, the induction pod and the side outlet were partially-painted with red instead of applying decal. I only picked up the white and the black stripes from the decal sheet.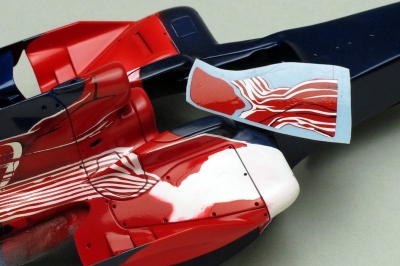 それにしても、模様合わせが大変! 完成した姿をイメージしつつ、焦らずゆっくり進めていくしかないですねぇ。
スポンサードリンク