2012.01.06 Friday
HOW TO CUT THE BODY
T33のボディの切り方について質問を頂いたのでタネ明かしです。基本は糸鋸なんですが、刃がブレないようにボディの表面に0.5mmの真鍮角線を2本接着し、その2本の隙間に沿って慎重に刃を進めました。
Here are several photos how did I cut this body. First I glued double 0.5mm square brass rods on the center of the body and then cut with a jig saw carefully.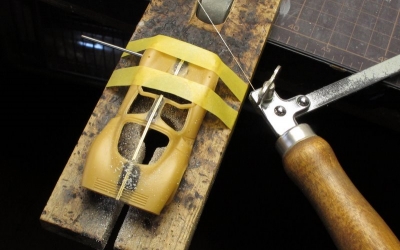 もちろん切る前にホイールアーチの見えない部分にドリルで貫通穴を開けておき、切開後もその穴にピンを通すことで、左右のボディがズレない仕組みになっています。
Actually, I drilled two holes before cutting. You'd see both nickel silver rods which keep separated body pieces in the correct position.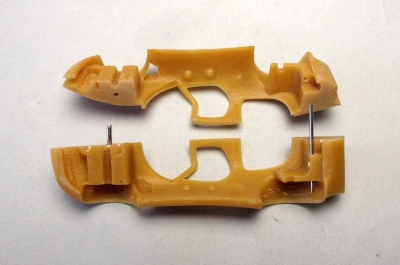 スポンサードリンク