2011.03.11 Friday
EARTHQUAKE!
午後2時47分、関東・東北地方で強い地震がありました。震源地は三陸沖、私の住んでいる埼玉県南部で震度5弱という報告です。ちょうどスーパーマーケットで妻の買いものにつきあっていたんですが、目の前の棚からワインや瓶詰め、空き缶が落ちてきて怖かった! 余震もいまだに続いていて、三半規管がおかしくなりそうで気持ち悪い。こういう経験は初めてです。
Just an hour ago there was an BIG EARTHQUAKE I have never... and feel several aftershocks still now. Fortunately my family and I are OK but a lot of books and magazines fell down from the bookshelf. It looks something countermeasure is required in my room..
自宅に戻ってみると、本棚の手前に並べてあったものが床に散乱。あ、机の上が乱雑なのは締め切り前だからで、今回の地震のせいではありませんよ! 2Fの部屋でこれだから、ビルや高層マンションだとかなりの被害が出たのではないでしょうか? 皆さまのミニカーコレクションが心配です。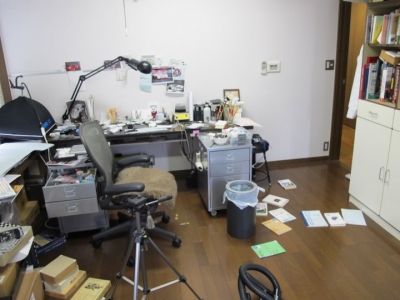 追記)その後のニュースで続々と被害が明らかに‥ミニカーの心配をするどころではありませんね。都内は交通網も乱れていて、帰宅もままならない方も多いのではないでしょうか。余震もいまだに続いています。皆さまどうかお気をつけて!
The mobile network, train and metro in the Tokyo area has been stopped for four hours after the quake and nobody knows the quick recovery... I'm sorry for the people who lost their way to go home...
スポンサードリンク