2010.11.12 Friday
PROGRESS SITUATION OF 250TR_10
いつものように展示・保管用のベースをアクリル板の2枚重ねで作り、ツヤ消し黒のデカールに車名を印字したネームプレートを貼付け、ビス2本でシャシーを固定します。
Yesterday I prepared a acrylic base and set the model on it with two screw. The leather strips between the front bonnet and the body were made of black drawing tape.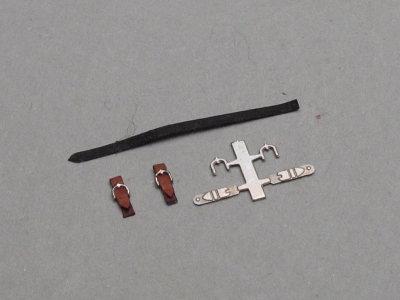 フロントボンネットの革ストラップには、柔軟性のある製図用のラインテープを使いました。裏側についている糊をエナメルシンナーで落とし、エッチングのバックルをエポキシ接着剤で接着後、ハンブロールの"レザー"を筆塗りします。
I removed the backside glue or the tape with enamel thinner and then trimed the length. The PE buckles were attached with epoxy before painting the lether part brown.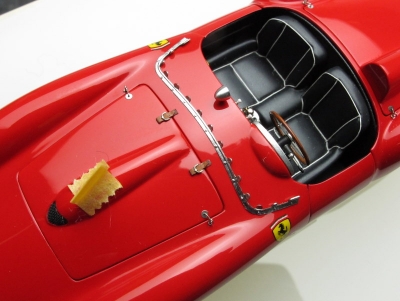 ウインドシールドの取付金具は変色防止のクリアーを吹いた後、やはりエポキシ接着剤を使ってボディに固定しました。多少はみ出しても、半硬化状態の時に爪楊枝でつついて取り除けるという利点があります。
Then I epoxy-glued the strips and the PE bottom frame of windshield which was sprayed clear coat to prevent discoloration.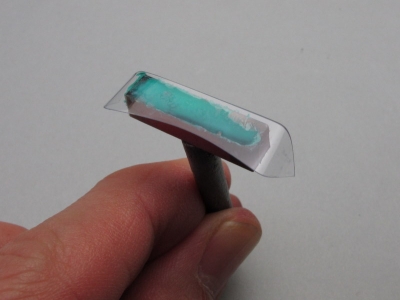 ウインドシールドはHi.Smodelの鈴木さんがバキュームし直してくれたものを使いますが、ボディとのフィッティング作業の際に表面に軽いスクラッチが入ってしまったため、表面を#2000のサンドペーパーで水研ぎし、クリアーを吹いて透明度を上げます。
I also coated the surface of the windshield with clear to concealed the micro scratches, to emphasize the clarity of PVC.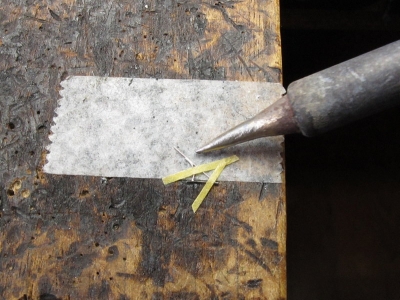 ウインドウ中央を支えるピラーは0.3mm幅の洋白帯金を半田付けで組み立てます。キット付属のエッチングパーツは、先端の角度が微妙に違っていてフィットしませんでした。
I had to remade the center pillar of windshield as the original PE was not fitted, anyway. The most important thing to solder such small pieces
is "how should I fix them temporarily", isn't it? I often use double-faced tape like this image. The shredded masking tapes are so convenient, too.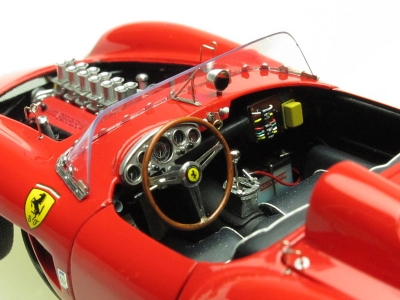 出来上がったピラーをクリアーコートし、エポキシ接着剤の点付けでボディに取り付ければ完成です。無事に仕上がって良かった良かった。さぁ、次はW196作ろ!
This was the final touch to apply the pillar between the windshield and the body, yeah! I now prepare the photo gallery of 250TR, and then start next project SRC Mercedes W196 for the next project.
スポンサードリンク