2010.11.09 Tuesday
PROGRESS SITUATION OF 250TR_09
テスタロッサの作業もいよいよ大詰めです。例の『
モデルカー掲示板@イタリア
』で指摘されていた、リアホイールハウス用の目隠しプレートをプラ板で作り、ガソリンタンクの両脇の隙間から挿入して固定します。
I made blindfold boards for the rear wheel housing with 0.3mm stylen sheet. After the matt black painting I put them into the slits between the gas tank and the wheels. Well, no light come into the rear trunk area... I appreiciate for a good advice from Italy.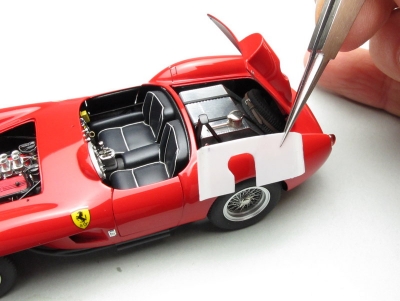 左右のドアキャッチは3ピース構成で、0.25mmの洋白線と0.5mmの真鍮パイプ、1.0mm幅の洋白チャンネル材を組み合わせて作りました。
The door inner hook was combined with 0.25mm nickel silver line, 0.5mm brass tube and 1.0mm channel which I got at a railway model shop.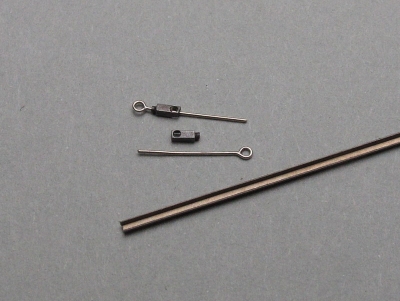 ヘッドライトカバーは今回エポキシは使わず、木工用ボンドを試してみることにしました。カバーをテープで仮止めした状態で、水で溶いたボンドを隙間に流し込んでいきます。完全に乾燥してからテープを剥がしましたが、強度もそこそこあるので大丈夫でしょう。
I glued head light covers with emulsion adhesive, not epoxy this time. I don't like yellowish change of epoxy for such a highly visible part.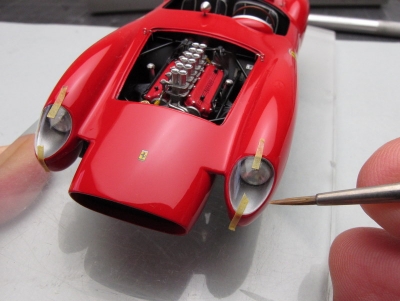 スポンサードリンク