2010.10.20 Wednesday
PROGRESS SITUATION OF 250TR_04
このV12エンジンの場合、後方にある2つのデスビから合計12本のプラグコードが片側6本ずつ、緩いテーパーのついた管の中を通ってエキマニの間に取り付く構造になっています。まずは内径0.5mm、外径0.8mmの真鍮パイプをテーパー状に削り、プラグコードの出口となる穴をモーターツールで開口したものを用意しました。
Then I opened micro holes on the tube and put 0.25mm solder lines in each holes as the plug cords. The tubes and the cords were attached on the lower hem of both cam covers, I added another cords between the distributors to the end of the tubes.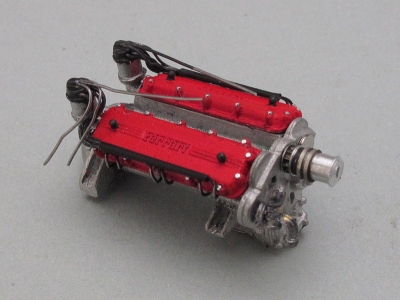 その真鍮パイプを黒染めし、短く切ったプラグコード(0.25mmの半田線)を差し込んだものをカムカバーの下辺に沿わせて接着します。接着剤が完全に乾いたら、デスビとパイプを結ぶコードを1本ずつ形作り、塗ってから接着するという手順を12回繰り返して完成となります。左右1本ずつ余った長いコードは、180度反転してバルクヘッドに取り付けたイグニッションコイルに差し込まれるというワケ。
I also added the fuel hoses on back and forth of the carbureter. They were made of 0.4mm brass lines and 0.15mm twisted wires.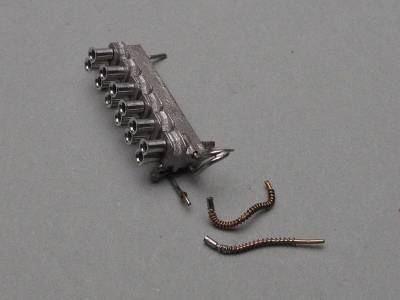 キャブレターの前後に付く燃料パイプは0.4mmの真鍮線の外側に0.15mmのワイヤーをぐるぐると巻き付けたもの。黄色く塗ってスミ入れするとこんな具合に仕上がります。
I painted the hoses yellow and test-fitted eveything on the underbody.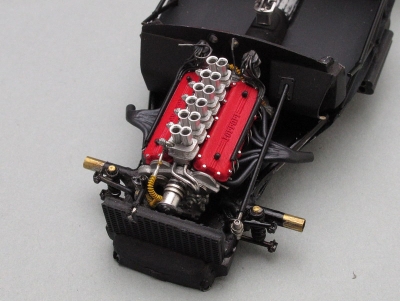 以上でエンジンルームの工作は終了。あとはヒューズボックスを仕上げてボディとシャシーを合体してタイヤを付けてウインドウとライトカバーその他諸々を接着すれば完成‥だ。
スポンサードリンク